We are all Princesses... lmao!
I visited Carroll Farm and she had this little diddy on her blog and I decided to do it.... I was roaring with laughter after I took it and it said that ......

You Are Cinderella!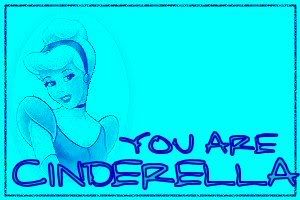 Dignified and hard working. With a gentle and soft-spoken manner you have something many people don't. Patience. Even through the moments of heartbreak you're still able to hold onto all of your hopes and dreams. Bide your time; your dream will come true.
Which Disney Princess Are You?
Actually, I do have loads of patience, I always have hope for the best and am very soft spoken, so it wasn't too far off... LOL!
Ladies, go give it a try and have a little laugh!