My take on Vintage Thingy Thursday
I am participating in: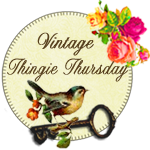 I spent more time than I wanted to over at Pinterest today, like this is new, NOT, LOL. But I decided I WILL work on something vintage for my home and saved quite a few things to
my Pinterest
boards that I want to do.
Wthout further ramblings from me...… here are a few fancies:
I want very much to do a whole wall like this. I am sure it will work great on my off white walls.
I love me a little steampunk
along with a vintage look.
I am also very fond of turquoise!
And isn't this the most beautiful altered bottle!
I wanna do this!
I am so liking altered anything now!
I am going to buy this journal and alter it along with actually journaling in it:
(I'm not sure how long it will take me, but I am going to do it! )
Source: My Amazon wishlist (click on image to be taken to this product on Amazon)
I hope you enjoyed my Vintage Thingy Thursday!
Take care!
~~~
Momma Rock